Convert Exchange EDB Mailbox to Outlook PST File
24-10-2017, 07:16
Convert Exchange EDB Mailbox to Outlook PST File
Sometimes users needs to convert edb file to pst file format to access these emails on MS Outlook Platform. MS Outlook does not understand the edb format, to Open these edb emails to MS Outlook you need to convert edb file to pst file. You cannot import the EDB files to Outlook directly as it may harm your files or you may lose you data.
Here is an free utility, called
ExMerge.exe
, provided by Microsoft to handle errors and issues which take place in MS Exchange Server database. This application is specially design to repair corrupt EDB file of MS Exchange server and allow you to save them into MS Outlook PST format.
enefits of ExMerge utility are:
It can be used for single mailbox, multiple (selected) or all the mailboxes which are stored in the Exchange Server.

It can be used for exporting Exchange server data to pst file.

This tool prevent duclicacy of messages from exporting the same contents of a mailbox twice to the same PST file.

It can be used as a

"brick-level backup

" solution that backs up a single mailbox instead of an entire database.


How to install ExMerge utility on your system?


To install ExMerge utility on your system, you must assure your system have MS Exchange Server installed along with the admin tools of Exchange server.
1. First download the
ExMerge.exe
from the Internet.
2. On the download page, click on the
Download
button to start downloading the exe. Once the exe is downloaded successfully, install it by running it as administrator and then configure it. Once it is configured on your system, log in to your Exchange Server account with Exchange Administrator rights.
Once the ExMerge utility is installed and configured, you are ready to run it. Start
ExMerge
, log on to your Exchange server and follow the steps shown below:
In the

Microsoft Exchange Mailbox Merge Wizard

, select the procedure you would like to perform.
Now select the step you would like to perform.
In the

Data Selection Criteria

dialog box, click on

Import Procedure

tab.
In the same dialog box, click on

Message Details

tab.
Now it is the time for

Mailbox Selection

. All the mailboxes which are available on the selected server, will be listed here.
Select a folder where you want to save the Personal Folder (.PST) files.
The

Process Status

will be shown in this window.

Once the operation is completed successfully, click on
Finish
button to finish the process.
If you are using MS Exchange Server 2007, you cannot run ExMerge utility directly on the Exchange Server machine which can easily be done in the earlier versions. Besides this, it may take enough time to be completed and you would require performing many steps.
If you are unable to perform such operation and face some difficulty, I would genuinely recommend you to download the Free trial version of this application. User can perform all operation in Free version rather than to save data. Good thing is that you can see your recovered data in Free version, If you are completely sure your mailbox is recover then go for a full version license.
My blog link -
https://exchangeserverstips.wordpress.co...-manually/
26-10-2017, 12:19
eloisesmith
Membro Júnior


Mensagens: 2
Registado: Oct 2017
RE: Convert Exchange EDB Mailbox to Outlook PST File
Convert EDB files into PST by getting use of Enstella EDB to PST converter software which provides easy steps for recovery and conversion of  EDB file with whole Emails properties/ body information/ attachment/ embedded image/ appointment/ junk mail etc. This software break outsized PST files into small PST file up to 5GB through click on split option course of action. This application supports all windows versions for downloading process. This tool provide 100% online support to successfully
solve all exchange users problem related with corruption issues.
31-10-2017, 14:06
inquitrober
Membro Júnior


Mensagens: 2
Registado: Oct 2017
RE: Convert Exchange EDB Mailbox to Outlook PST File
 I would suggest you must download
Exchange EDB to PST
Tool to recover corrupted EDB file and convert them into PST and other healthy and readable formats like EML, vCard, vCal, MBOX and EMLX with all emails items.
Read more info visit link: 
https://sites.google.com/view/edb-to-pst-freeware-tool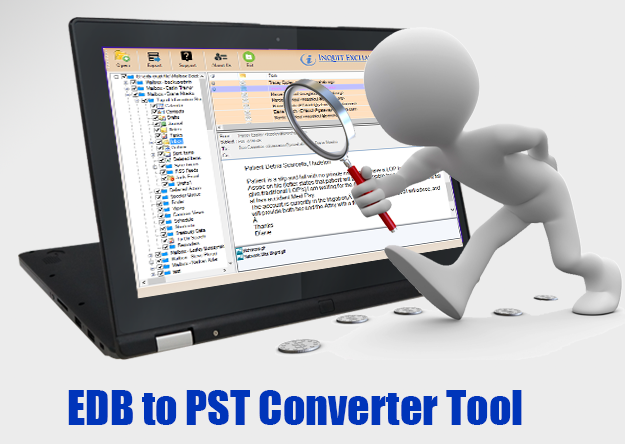 05-01-2018, 13:52
abrilnathan
Membro Júnior


Mensagens: 3
Registado: Jan 2018
RE: Convert Exchange EDB Mailbox to Outlook PST File
eSoftTools

EDB to PST Converter

software is powerful software that safely repair corrupt exchange server database and restore deleted data like Inbox, Outbox, Sent Items, Deleted Items, Draft, Journals, Tasks, Calendars, Notes, Contacts etc. This software supports upto Exchange Server 2016 , 2013 , 2010 , 2007 , 2003 , 2000, 5.5, 5.0. EDB to PST Converter can splits PST files during conversion.
Download Free: http://www.boomeon.com/posts/edb-to-pst-software
15-02-2018, 10:44
jeenifer
Membro Júnior


Mensagens: 3
Registado: Jan 2018
RE: Convert Exchange EDB Mailbox to Outlook PST File
Some exchange user want to quickly recovery process of exchange server database and allows to
convert EDB to PST
outlook along with inbox/outbox/sent mails/deleted mails/journal/notes/task/contact and calendar. This Stella 2013 EDB to PST software so successful solution to recover damage/corrupt EDB file data and  save exchange EDB file data into working MS outlook it also support whole version of EDB file:- 5.0/5.5/2000/2003/2007/2010/2013 and 2016.
Read more detail from here:-
https://gust.com/accelerators/100-effect...y-software
20-03-2018, 12:12
(Esta mensagem foi modificada pela última vez a: 20-03-2018 12:13 por jennferhussain.)
RE: Convert Exchange EDB Mailbox to Outlook PST File
If you unable to read your EDB database then now you will be able to read your unreadable EDB file data with the help of EDB to PST converter tool. This software is a perfect way to repair EDB file data as well as convert EDB to PST, EML, EMLX, MSG and HTML. It can use EDB to PST Tool all information and data from exchange EDB file such as:- inbox/outbox/messages with Properties and attachment/calendar/contact/journal and task and profile outlook.
Utilizadores a ver este tópico: 1 Visitante(s)